Sports, Clubs & Team Wear
eCommerce Website Design
Watman & Worth Web Ltd are a national web design and development agency servicing businesses across the country. Each of our custom built websites are fully responsive for mobile and tablet devices and are designed to offer the very best user experience as well as high functionality and fantastic site speed.
Over the past 5 years we have worked closely with a variety of team and club wear companies from initial start ups to industry leaders to develop successful specialised eCommerce websites.
Our Club & Team Wear Website System comes packed with useful features that make ordering easy on your customers and management easy on you.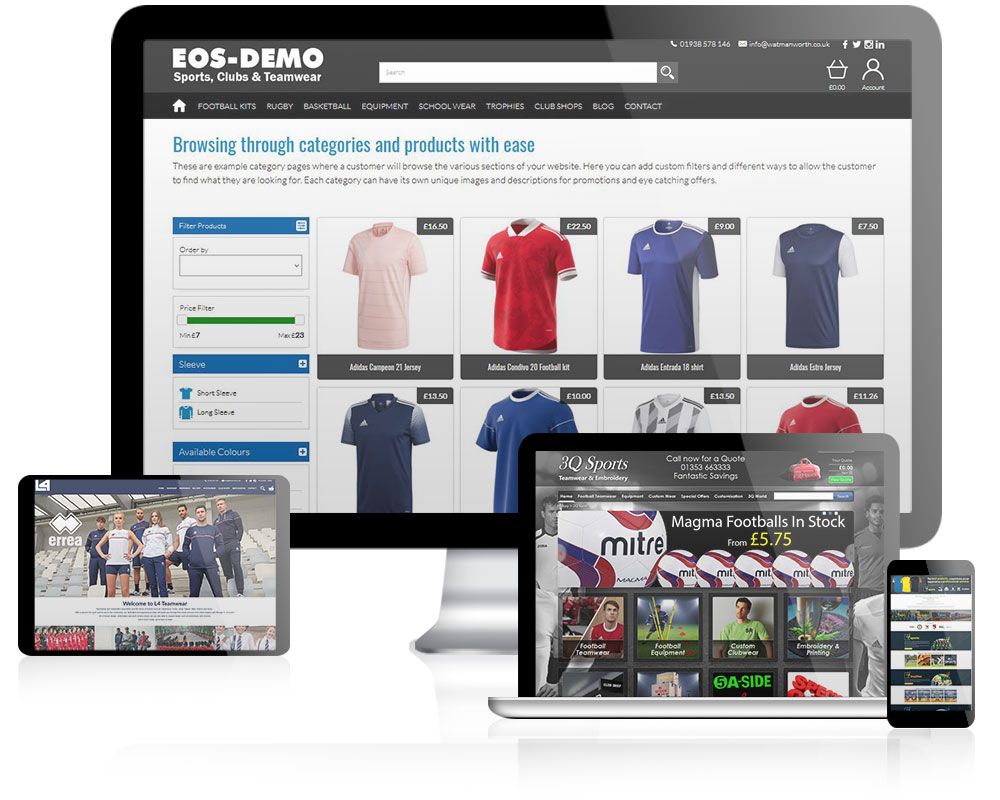 Key Features
Whilst we fully furnish our eCommerce systems with all of the usual tools, we have developed a suite of specific features for the team and club wear platform
Unlimited Product & Category Managemnt - add your full showcase of products, brands and categories for customers to browse and purchase through your websites secure checkout
Club Shops - allowing your clubs to order through their own password protected areas
Product Customisation - enabling your customers to add badges, embroidery, numbers and names to their items
Customisation Previews - whether it's clothing, trophies or merchandise, your customers can preview their images and personalisation direct onto the live view
Bulk Ordering - a simple and effective process of ordering batches of items of varying colours and sizes within the product page
Order Management - keep your customers updated with staged order processing and automated correspondance
Stock & Order Reporting - stay up to date on your figures and inventory using your onboard systems
SEO Management - easily optimse the pages on your website for the best results in Google rankings to make sure you get found by the people looking for your services
Instant Demo Access
Get instant access to the live online demo of our club and teamwear website platform.
Simply fill out the details below and you will be sent an email with a link to the live demo so that you can explore the process of browsing, customising and ordering products from the view of a customer. If you like what you see we can also offer a demo of the website admin area where you'll be able to manage your products, customers and orders.
Prev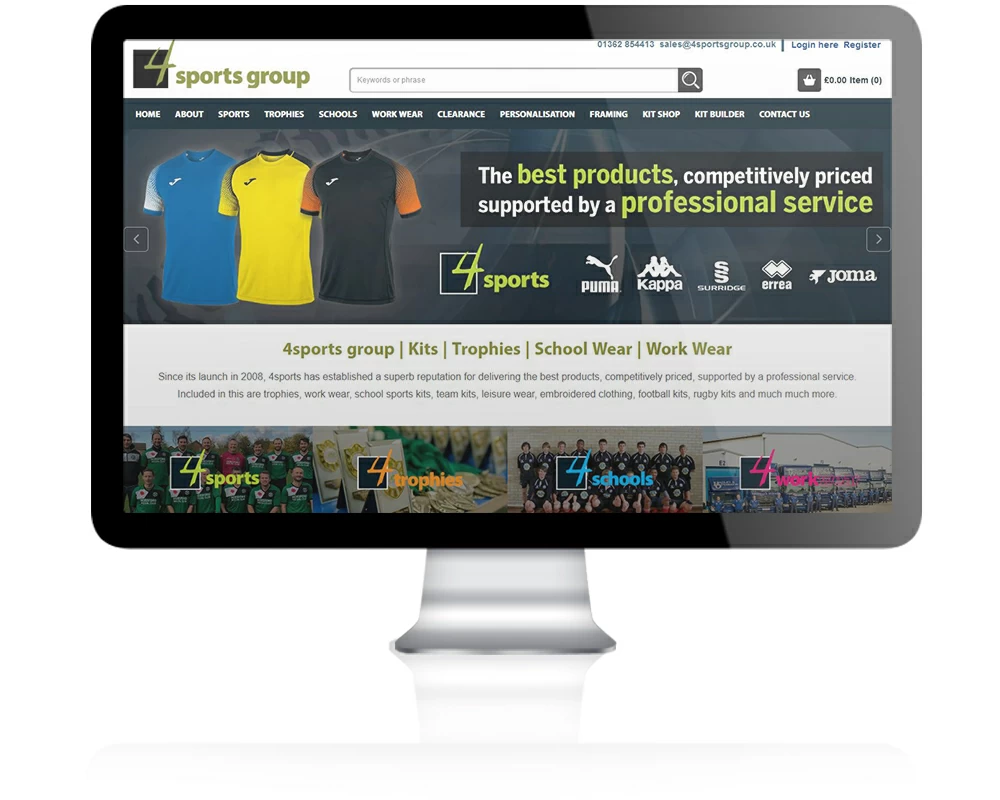 Showcase your products
Add unlimited products, categories and brands into your professional, easy to navigate website. Allow customers to use the smart search to find and purchase exactly what they are looking for in a few simple steps.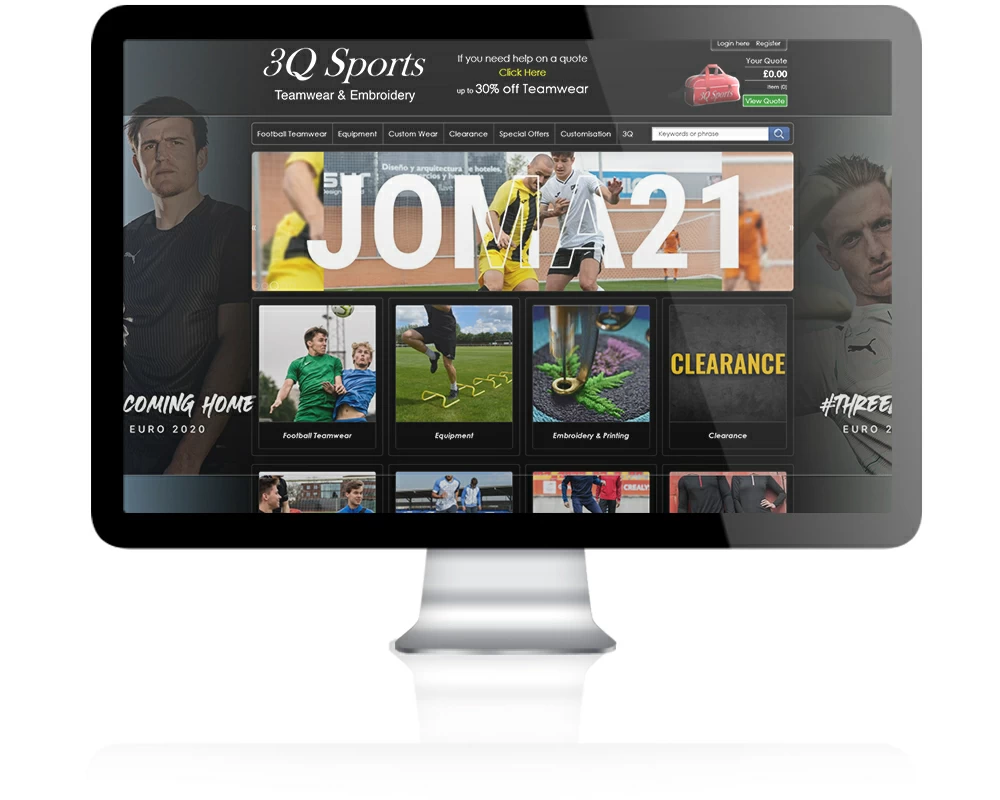 Your design, your brand
We work with you to produce the design and build that best reflects your business. With endless design flexibility we can produce the perfect showcase for your brand and products.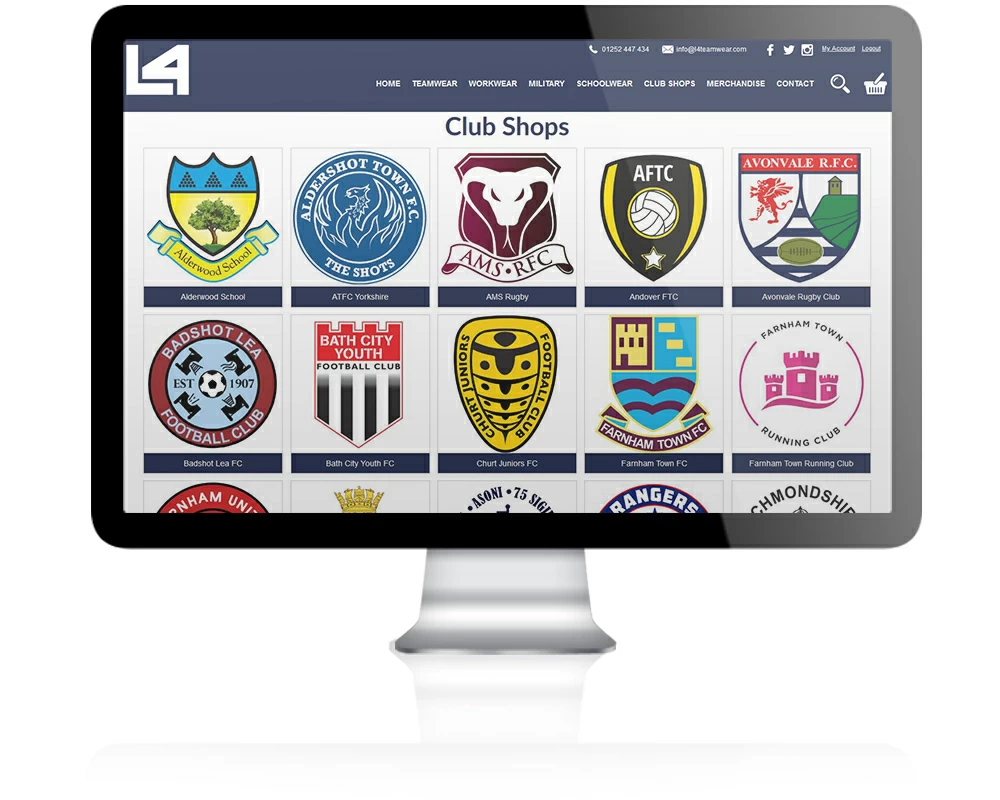 Clubs Shops
As well as your standard online retail shop, you can create shop areas for specific clubs to access products relevant to them. With the option to keep these areas password protected and brand them accordingly you can create a truly personal experience for your customers and clients.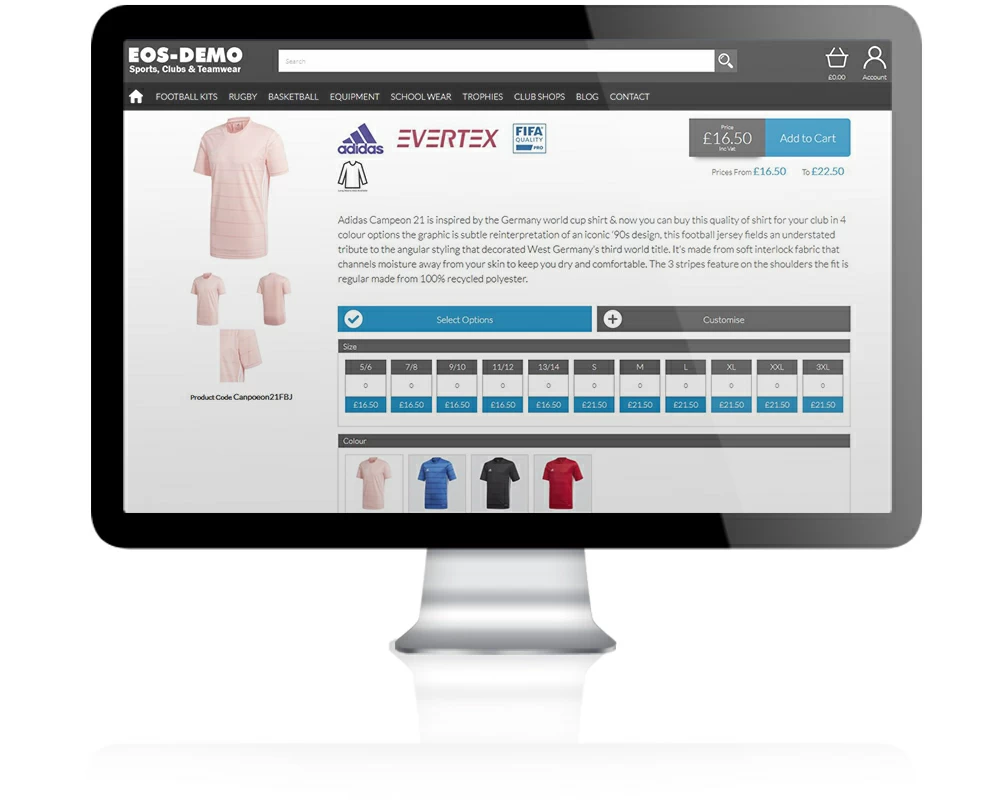 Product options & Bulk Buy
Customers can place bulk orders with ease, selecting multiple size and colour combinations. Great for placing large club or team orders in one simple and easy process.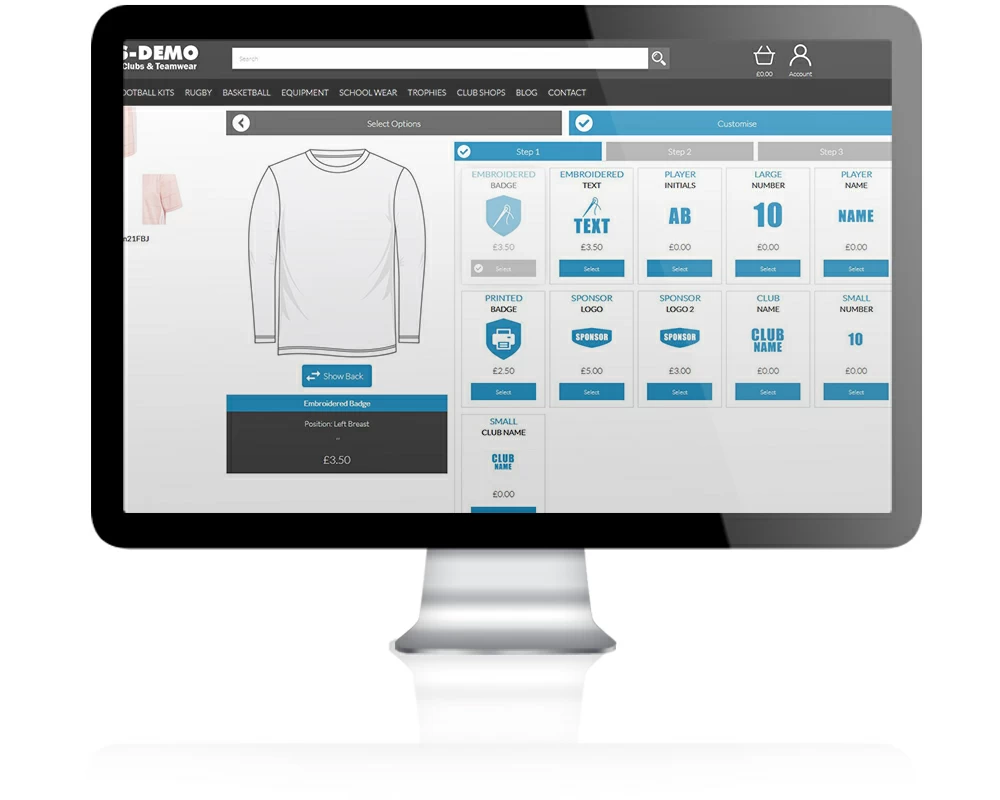 Printing, embroidery and customisation
Let your customers personalise their team and clubwear with badges, initials, names and logos.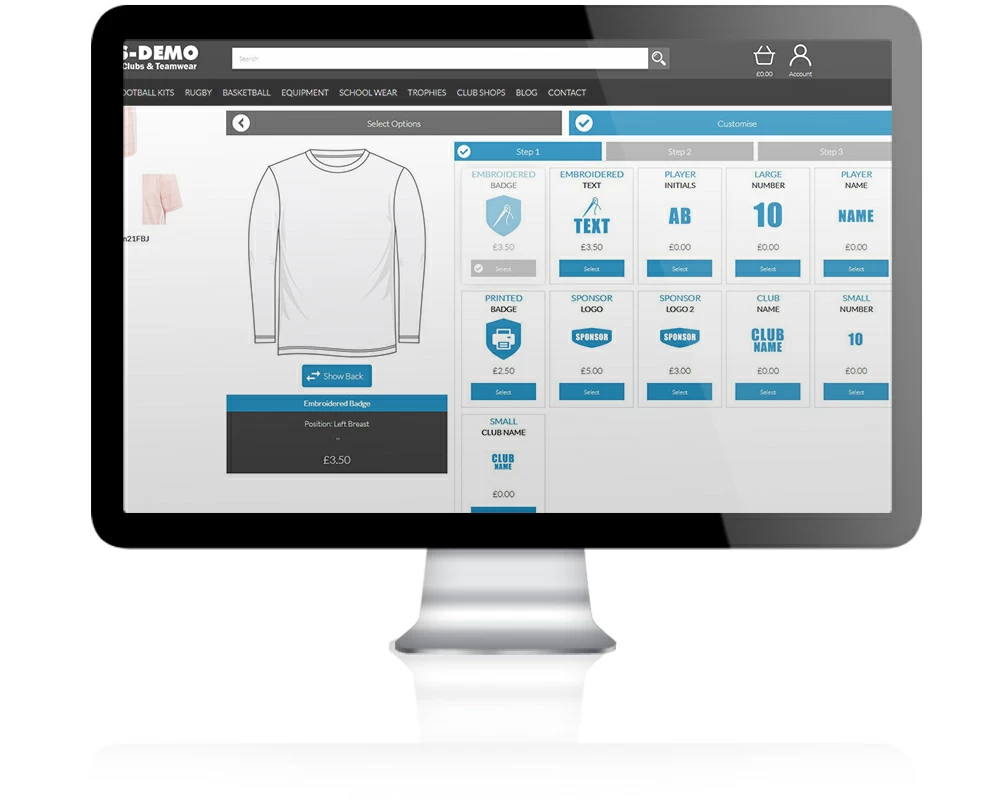 Connect with your customers
Whether it's enquiries or direct online sales, our system allows for complete control over how you connect and promote to your customers.
Next
EOS Website Content Management System
Stepping away from the limitations of template building systems, our EOS Website Software allows for complete control of your website design, layout and content management through one easy to use portal.

As your developer we have the freedom and flexibility to design and create the perfect website for you, build in all of the tools and features you need and allow you unparalleled control over your content and online presence.
As a website owner you have the ability to add unlimited custom pages, products, news, blogs and more, all completely editable via your admin area. Make updates in real time with no need to download or install any software.

EOS is completely browser based, allowing you to manage your website from anywhere at any time.
Website Core Features
The system allows you to manage all types of pages, content and products, quickly and easily through your secure admin area
Service & Information Pages
News Articles & Blog Posts
Directory Listings
Client Portfolios & Case Studies
Video, Media & Gallery Showcases
Online Forms & Newsletter Sign Ups
Customer Reviews & Testimonials
SEO Management
Social Media Integration
User & Customer Management
Website Analytics & Reporting
Please click below to view more about the website platform
View More
Ecommerce & Specialist
Our modular system is furnished with a suite of tools and features to build the exact website you need. Some of these include;
Product & Category Management
Trade Facilities, Warehousing Modules & White Labelling
Online Booking Systems
Instant Quote Engines
Online Price Matrix and Calculator Facilities
Online Training & Educational Software
Product Customisation Tools
Secure Checkout & Multiple Payment Gateways
Discount Codes & Bulk Buy Discounts
Automated Invoicing, Order & Customer Management
Stock Control & Order Reporting
Please click below to view more specialised features
View More
How does it work?
If you are looking for the design and development of a new website for your club & teamwear business then we can help.
Simply give us a call on 01938 578 146, or drop us a message via the contact form and we will be in touch to have a chat through your requirements. We'll provide a quote and a specification for the project for you to review.
Once in development, we work with you to produce the design, look and feel of your website, including all of the tools and features you require. This is all done on a dedicated staging area that is accessible to just you and us, so you can see your website through the development, provide feedback and work with us to produce your website.
Everything we build is completely bespoke and developed to your requirements. Once we have the design and structure all in place, we introduce you to your website admin area and train you how to add your content and products and show you how to manage your website, orders and customers.
When everything is tested and ready, we will Go Live on your domain and launch your website.