For any Solicitor or Legal Professional, your website is the online representation of your business, showcasing your services and nurturing trust and reliability with potential clients.
Our Brochure Websites are the perfect solution for all businesses looking to imporove or establish a professional online presence, promoting services and showcasing all that you have to offer.
The design of your website is limitless, as are the possibilities for client engagement. With years of experience working with legal professionals we have developed fantastic tools to help streamline online processes and offer the best customer experience.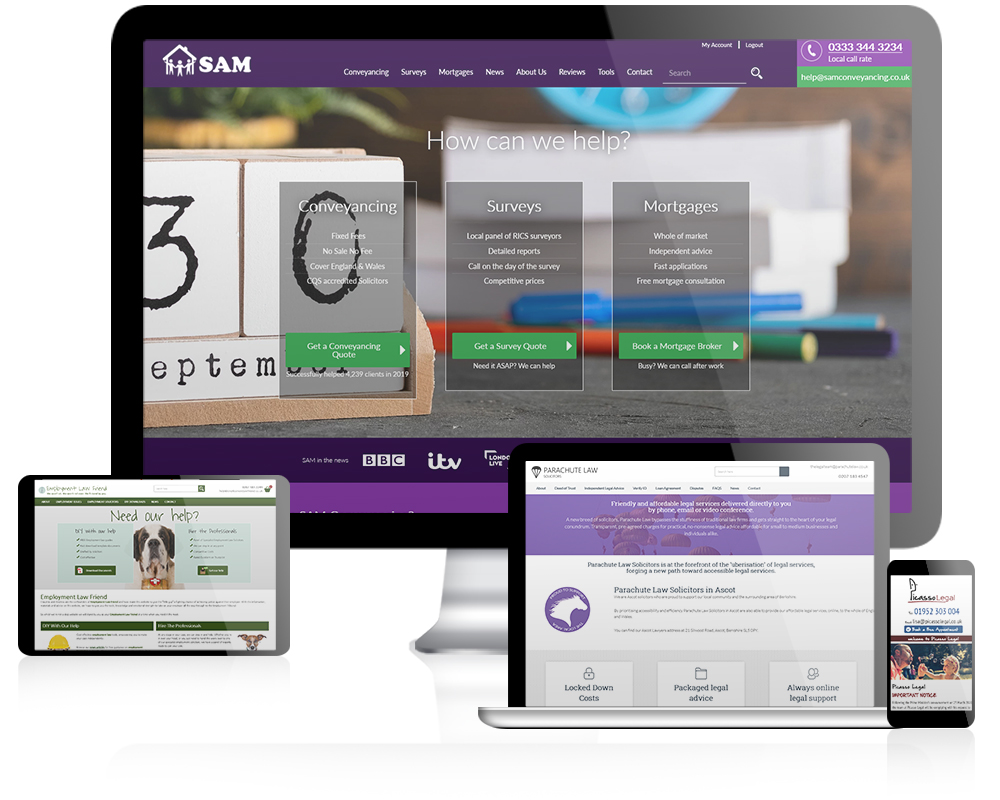 Key Features
Whilst we fully furnish our websites with all of the usual tools, we have developed a suite of specific features for Solicitors and Legal Professionals to provide a an efficient and imformative online experience for their clients.
Unlimited Pages and Categories - showcase your services and offerings professionally with flexible pages on endless layouts
Online Forms - generate enquiries for your business with fully customisable forms and data captures. Our form creator also allows your clients to easily complete all of their case information through a simple staged process and submit payment for services securely
Instant Quote Engines & Solicitor Instruction - provide your potential clients with online estimates based on the service and personal criteria, leading them through direct to instruction
Online Calculators & Research Tools - fantastic for wider lead generation, you can allow potential clients to do their research directly on your site - ideal for Mortgage & Stamp Duty Calculators, Legal Fees and much more
Document Downloads - whether you offer free or paid legal document or letter templates, your online clients can access, pay and download securely direct through your website
User Management & Client Portals - account areas for your clients to view specific content, manage their information and access their personal files and downloads
Let's talk about your website
Simply fill out the details below, and we'll be in touch to discuss the requirements for your business and what you may be looking to achieve from a new website to give potential clients a seamless online experience.
We'd also love to give you a tour of our Eos website platform so you can see all of the tools and features you would be working with to manage your website.
Let's take a look at some case studies
Whilst we work with clients from all industries, here is a selection of businesses from the legal field which demonstrate some of the features that have been developed specifically for this sector. Please feel free to take a look through to explore the features on each site, of click below to make an enquiry now.
Get a Website Quote SAM Conveyancing
Working closely with the team at SAM Conveyancing, we have developed a comprehensive set of tools, including;
These are just a few of the tools we have developed for SAM Conveyancing that streamline processes for both the team and for clients.
If you would like to explore the full set of tools available, you can view the full site here. Parachute Law
Parachute Law takes the process of completing legal forms and process online through the use of easy to use, staged process screens, allowing the client to communicate all information direct to the solicitor.
The website uses;
Staged process forms - view here
Secure online payment for services
Loan repayment calculator - view here
Appointment booking for 1-1 client consultations
The website aims to create a fluid user experiences, streamlining processes and providing important information, advice, and resources.
Here you can view the full Parachute Law Website. Employment Law Friend
The team at Employment Law Friend offer expert advice from the beginning of the case right through until tribunal. With access to legal letter templates and documents, advice and resources, they offer both DIY option and professional legal services. The site features;
Purchasable Resource Downloads (with secure online payment) - view here
Free Resources Downloads (with instant access)
Chat Module (for instant enquiries)
Here you can view the full Employment Law Friend website Picasso Legal
The Picasso Legal website is a brochure style project which is segmented into a wide variety of service areas. The legal team cover a range of legal sectors and the website is their online guide for clients to gather information, access free downloads and resources and make enquiries.
This online service showcase offers an introduction to the team, building a relationship from the very moment the client visits.
You can view the full Picasso Legal website here
EOS Website Content Management System
Stepping away from the limitations of template building systems, our EOS Website Software allows for complete control of your website design, layout and content management through one easy to use portal.

As your developer we have the freedom and flexibility to design and create the perfect website for you, build in all of the tools and features you need and allow you unparalleled control over your content and online presence.
As a website owner you have the ability to add unlimited custom pages, products, news, blogs and more, all completely editable via your admin area. Make updates in real time with no need to download or install any software.

EOS is completely browser based, allowing you to manage your website from anywhere at any time.
Website Core Features
The system allows you to manage all types of pages, content and products, quickly and easily through your secure admin area
Service & Information Pages
News Articles & Blog Posts
Directory Listings
Client Portfolios & Case Studies
Video, Media & Gallery Showcases
Online Forms & Newsletter Sign Ups
Customer Reviews & Testimonials
SEO Management
Social Media Integration
User & Customer Management
Website Analytics & Reporting
Please click below to view more about the website platform
View More
Ecommerce & Specialist
Our modular system is furnished with a suite of tools and features to build the exact website you need. Some of these include;
Product & Category Management
Trade Facilities, Warehousing Modules & White Labelling
Online Booking Systems
Instant Quote Engines
Online Price Matrix and Calculator Facilities
Online Training & Educational Software
Product Customisation Tools
Secure Checkout & Multiple Payment Gateways
Discount Codes & Bulk Buy Discounts
Automated Invoicing, Order & Customer Management
Stock Control & Order Reporting
Please click below to view more specialised features
View More
Making your website work for you
Some people say the Brochure Websites are simple, and in some cases this is true, however, they too have to deliver results, convert website visits to enquiries and act as true representation of your business.
So you will need a stunning, functional, well optimised website! That's where we come in.
How does it work?
If you are looking for the design and development of a new brochure website then we can help.
Simply give us a call on 01938 578 146, or drop us a message via the contact form and we will be in touch to have a chat through your requirements. We'll provide a quote and a specification for the project for you to review.
Once in development, we work with you to produce the design, look and feel of your website, including all of the tools and features you require. This is all done on a dedicated staging area that is accessible to just you and us, so you can see your website through the development, provide feedback and work with us to produce your website.
Everything we build is completely bespoke and developed to your requirements. Once we have the design and structure all in place, we introduce you to your website admin area and train you how to add your content and products and show you how to manage your website, orders and customers.
When everything is tested and ready, we will Go Live on your domain and launch your website.
If you'd like to learn more about the features of our website and content management system or to view our prtfolio of work, please click below. Or why not drop us an enquiry or give us a call to find out more.