What is SEO all about?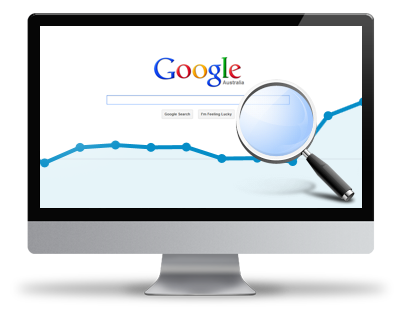 Search Engine Optimisation is the practice of ensuring that your website is relevantly optimised and targeted to your audience, and that it can be read, understood, indexed and delivered to users by search engines such as Google and Bing. It is an intrinsic part of a successful website and online business.
It includes everything from making sure your website has the right key words and phrases that your customers will be searching for, through to the technical structure, speed and performance of your website. Factors such as links to your website and even social media can play an important role in sending the right signals to search engines about your website. We'll look at this in a little more detail further on.
We'll help you understand SEO and give you the tools you need to succeed

Our team take a collaborative approach to any project with SEO being a key factor in the creative and decision making process. From web design and development through to marketing and social media, even right down to domain registration, every step should be mindful of the SEO implications.
Our aim is to provide you with the SEO Tools you need to fully optimise your website for search engines and to assist unravel any mystery surrounding the process for you. We provide training and support resources with our main focus being imparting that knowledge and skill set to you in the process. We want you to feel comfortable and confident enough to run or oversee your own SEO, building and maintaining your rankings yourself.
SEO & your EOS Website

All of our websites are build on our bespoke EOS Content Management system. We are continually developing the suite of SEO Features and tools to ensure you have everything you need to easily manage your website Search Engine Optimisation. This includes everything from individual page SEO Overrides, Seach Engine Verification and Analytics integration, a comprehensive Meta Template Manager and sitemap management.
For more information on the tools and resources available in your EOS content management system you can check out the complete SEO Features List.
Why is SEO important?

Major search engines such as Google and Bing deal with literally over 100 Billion search queries on a daily basis.  This is all generated by potential users, clients and customers who are looking for services, answers, products and ideas by way of internet search queries. Basically, people searching Google and looking for a service or product they need.
Your website will be 1 of many that are all fighting for the top position in the results when customers do these searches. So optimising your website to tell Google, you are the one that should be positioned the highest is the purpose of SEO.
Search Engine Results Pages (SERPS)
Search Engine Results Pages (SERPS) are generated when a search query is performed via a Search Engine. When someone types their term in Google and clicks to search.

In these results pages we will find website pages, local listings, reviews, videos and images all based on their relevance to the search we have performed.
Based on the phenomenal number of search queries alone it is understandable why it is a necessity for you to have an online presence.  However, with this in mind, there is inevitably going to be a barrage of competition in getting yourself seen when these searches are performed.
So surely I want to be at the top of these....SERPS?
Absolutely! We cannot stress how important being at the top of these SERPS, just to put it into perspective, 70% of clicks within the SERPS pages are on the top 3 organic listing results, leaving the remaining 30% of clicks for sponsored or PPC adverts and descending results from position 3.
Even going from position 1 to 2 can in extreme cases have a dramatic detrimental effect on the productivity of the site and could potentially put you at risk beneath your competitors.
Search Engine Optimisation is the practice of ensuring that your website is primed, promoted and presented in such a way that it will rank highly in Search Engine Results Pages.
To do this it is crucial that we indicate to search engines that our website or content is relevant and useful for particular search terms and that we are able to genuinely meet the needs and requirements of the end user.
In short, to rank highly in the results page listings we have to earn our positions.  Search Engine Optimisation is the process applied to gaining these higher rankings in the free, natural results known as organic listings as opposed to paid for listings or sponsored ads.
2 reasons why Search Engine Optimisation is a vital component to any website promotion
1)      The ability to be found, ideally on the first page of Google, is imperative for businesses because this is where users generally find what they are looking for.  Search engine rankings have proved time and time again to be a deciding factor in the success of a business and with the increasing shift of the market to the virtual online world it is understandable why we need to be considering our performance in search engines.
2)      Converting a user once on your website or at the very least ensuring they find what they are looking for is crucial.  Your onsite optimisation will determine your user experience and subsequently indicate back to search engines that your relevance for that search was useful.  This process of onsite user activity will either reinforce or question your position in search engines so we can see that this second dimension to optimisation includes having a well constructed and considered website design and layout.
What do i need to consider from an SEO Campaign?
The wrong type of activity surrounding your brand and domain, such as poor or aggressive back linking techniques, duplicate content and article submissions and even spammy social media tactics can have a detrimental effect and often cause lasting damage to your rankings. 
Our approach is to provide you with all of the relevant information you need to start your campaign, understand everything that is involved and to furnish you with a full suite of SEO tools within your website allowing you to implement your strategy and on-site SEO.
We also work with trusted SEO Professionals that can provide you with campaign assistance and take off some of the load with certain aspects of the campaign.

Your input and involvement is essential as a successful campaign hinges your knowledge and passion for your business.  Combine with that our understanding and application of the most effective, current and ethical optimisation techniques and we will achieve the desired results. 

More importantly these results will be lasting, maintainable and in line with Googles guidelines ensuring a solid ranking foundation at all times.
Whether you are looking for an SEO and Website Audit or to discuss your SEO Campaign and start improving those rankings we have a range of SEO resources, so please take a look around the SEO blog for help, ideas and advice.

When it comes to SEO there is no "One size fits all approach" Understanding all of the options, getting the right advice, choosing the right SEO Strategy and even knowing what SEO services that you might need can be a daunting task and a potential minefield.
That's why we like to make it easy. 
Whilst, yes, we have stacks of Googlicious SEO advice and information available here, sometimes it's just easier (and often more beneficial) to talk through your project with another human. 
We will discuss your current situation, goals and requirements to find the right way forward for you.